February 11, 2008
I am not sure how anyone can think this is what Christ had in mind for a love song! A group calling themselves Jason and DeMarco are billing themselves as a "Gay" Christian Band. The video below is very disgusting so please be aware of that before you click the play button. It is very openly gay and the men even kiss a couple times. What in the world is wrong with people today. I am just appalled at how many gay and lesbian people there are in this world.
The picture and paragraph below were found from a Google Search.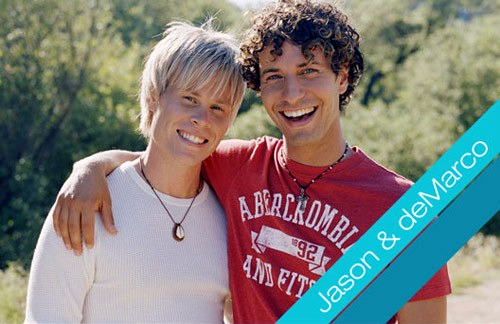 "The Click List" is the gay version of MTV's "TRL". It plays the top 10 videos voted on by viewers and can be found on the LOGO Network. If you are gay LOGO is a must have! The current number one video is by a duo named Jason & DeMarco. They consider themselves a gay christian duo. The song is sort of cheesy and reminds me of a gay version of Airsupply...wait they might have been gay as well or just GAY.
They are both cute and their current video is for a song called "This is Love" and it is very sweet. Not often that you get to see gay love in your music videos.
---
Do a search for gay celebrities and you will be amazed. That is just the Hollywood crowd. This is just another of the many signs present today that prove to me the end times are near. The Lord cannot tarry much longer as this ole world is destroying itself faster and faster. Watch the video and then click the link to let us know your opinions on this group who claims to be Saved, going to Heaven Christians.
Lyrics to the song do not tell me any story of any type of Gospel. This is nothing but a love song to each other. From a secular point of view, this song would have been a great love song between a man and his wife but to be between two men goes against the Word of God. Read the lyrics and let me know what message you find. email me here
Here i am again, its you and I
Another surfside night.
I can see the waves,
I can see the moon,
But mostly I see you.
With my eyes i see you standin' there,
Without a care.
With my heart i see you wanting more,
Of what love has in store.

I know i want to stay right here.
Right here with you.

When i see you,
In a moment, everything around us falls away
And all i see is you (all i see is you)
And i feel you
Right besides me
And everything familiar now feels new
Whenever i'm with you.
This Is Love

Here we are again
Its like a dream, but this is real to me (yeah)
It happens everyday, when i see your face, the world just falls away

I know i want to stay right here.
Right here with you

When i see you,
In a moment, everything around us falls away
And all i see is you (all i see is you)
And i feel you
Right beside me
And everything familiar now feels new
Whenever i'm with you.
This Is Love

I know i hear you callin'
You and I are fallin'
I know i want to fall in love with you

And i see you,
In a moment, everything around falls away.
And all i see is you (all i see is you)
And i feel you, right beside me
And everything familiar now feels new
Whenever i'm with you (with you)

And i see you,
In a moment, everything around us falls way
And all i see is you
And i feel you, right beside me
And everything familiar now feels new
Whenever i'm with you
This is Love

This is Love