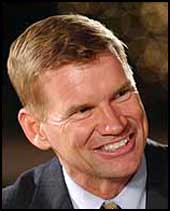 Former head of the National Association of Evangelicals in the US, Ted Haggard's journey of "spiritual restoration" came to a halt this week at the request of the disgraced New Life Church pastor. I would have imagined that this decision would be made by the overseers not Mr. Haggard.
A year after Haggard agreed to enter counselling with four ministers over his sex scandal, he asked to end the team's oversight of his recovery programme. But New Life Church officials believe the termination of the relationship is premature, according to a statement on Tuesday. I agree wholeheartedly. Mr. Haggard agreed to be under these peoples supervision and guidance and should adhere to their timetable.
Early last year, just months into his recovery programme, the overseers had indicated that the restoration process could take years.
"New Life recognizes the process of restoring Ted Haggard is incomplete and maintains its original stance that he should not return to vocational ministry," read the statement.
Haggard, founder of New Life in Colorado Springs, resigned as president of the National Association of Evangelicals in November 2006 and was fired from New Life Church after a former male prostitute alleged a three-year cash-for-sex relationship with Haggard.
The former megachurch pastor later confessed to undisclosed "sexual immorality" and to buying methamphetamine.
Haggard now lives in Phoenix and is a member of Phoenix First Assembly of God. Pastor Tommy Barnett, one of the overseers in the restoration team, said he will maintain an "accountability relationship" with Haggard.
Barnett runs the Phoenix Dream Center, helping the homeless, and recovering alcoholics, drug addicts and prostitutes. Last August, Haggard reportedly said he would move in to the Dream Center, saying he could identify with the people there. But Haggard's counselling team denied the report and said he would not be doing any ministry work. When I first heard about this I thought to myself, why is Mr. Haggard making these statements when he should be working under the guidance of the overseers. He barely has gotten into rehab and wanted to start a new ministry.
Since early on in the recovery process, the overseers have strongly urged Haggard to seek secular employment.
New Life's statement said Haggard's leadership of the church had been extraordinary "for many years" and wished him and his family success in the future.
The church would not make further comment about Haggard's "spiritual restoration", the statement added.
Haggard was replaced last August by Brady Boyd, former associate senior pastor at Gateway Church in Southlake, Texas. Despite a drop in attendance since the sex scandal, the now 10,000-member New Life congregation has been recovering under the new leadership. What are your thoughts on this article? My comments are in red.