Date: Thu, 8 Sep 2005 11:40:38 -050
Subject: ABUSING AUTHORITY
Spiritual Pathways Ministries
"YOU CANNOT SERVE GOD AND MAMMON (RICHES)"-
MATTHEW 6:24
The Bucks Stop Here!
HAVE YOU ABUSED YOUR AUTHORITY IN THE GOSPEL?
"When I preach the gospel, I preach the gospel of Christ
WITHOUT CHARGE,
That I may not ABUSE MY AUTHORITY in the gospel"-
1 Corinthians 9:18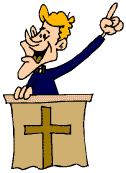 "Creflo Dollar tells you that he will take care of your burdens and yokes if you send those love gifts in cash to his ministry, but the yokes on you, Creflo, because you're nothing but a counterfeit dollar without much cents!"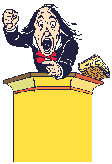 "Paul Crouch tells you to become a partner with TBN or he'll curse you by having to watch his wife cry! After ten minutes of that, money starts rolling in! "
One of the greatest prayer Scriptures that deal with discernment and false doctrine is 2 Kings 4:39-40. "BOIL STEW FOR THE SONS OF THE PROPHETS. ONE WENT OUT INTO THE FIELD TO GATHER HERBS, AND FOUND A WILD VINE, AND GATHERED FROM IT A LAP FULL OF WILD GOURDS, AND CAME AND SLICED THEM INTO THE POT OF STEW, THOUGH THEY DID NOT KNOW WHAT THEY WERE. THEY SERVED IT TO THE MEN TO EAT. AS THEY WERE EATING THE STEW, THEY CRIED OUT TO ELISHA SAYING, THERE IS POISON IN THIS POT".
Those that preach from the Prosperity Gospel have brought to the church a very poisonous doctrine and their congregations are ever so eager to ingest that seemingly tasty morsel. Yet, they really don't know what they're dining on any more than the sons of the prophets did. And, by that poisonous doctrine, these preachers are abusing their authority in the gospel. They are making merchandise of the house of God with nary an objection. Instead, these prosperity "prayers" are applauded and greeted with screaming cheers from their flocks. And, all this because their congregations cannot discern poison. One of the reasons why this is so is because their pastors have made them believe that the poison is sugar candy, but, isn't that what Jim Jones did with his Kool-Aid?
These peddlers of God's word have transformed the gospel of Christ into something of their own making, but will the clay say to the Potter, "HE HAS NO UNDERSTANDING"- ISAIAH 45:9, so that we have to direct His counsels? Those of the Prosperity Gospel actually have things turned around (Isaiah 29:16). They have DELIBERATELY misled their flocks into thinking that their version of poison is good for them.
Rod Parsley of Columbus, Ohio, recently pranced about his stage boasting of his $3,000 shoes and his $5,000 sports coat, and how he had gifted his wife with a ribbon-wrapped $45,000 car, which he added that he had paid for it in cash. One sure doesn't have to wonder where all that cash came from, do they? Is that how he spends the money that comes into his ministry? And, have you also ingested the type of poison that hinders your discernment? If that wasn't enough, Oral Roberts appeared on the Benny Hinn Show offering him financial support so that he didn't have to lose his air time. Yes, the same Benny Hinn that travels around the country staying at the most expensive hotels imaginable. Have you ever noticed how many pastors use the gambit of making you think that they're going to go off the air if we don't give to their ministry? But, we thought that the Christian wasn't to give grudgingly or of necessity (2 Corinthians 9:7)? That means as if their arm was being twisted behind their back.
Pentecostal pastors so rev up their congregations with howling music and clever antics that they are so into the "spirit" that the evangelists want them to be in, that they can't see the forest through the trees. They utilize EMOTION to its fullest. But, God desires TRUTH in the inward places, not emotion. And, those that abuse their authority in the gospel come with all the tricks of the trade. They dress themselves in all the cunning craftiness by which they lie in wait to deceive, for that is their way of making poison appear as attractive as possible. When they say that you can have all the things you want, our collective greed makes us want those things all the more. But, my friends in Christ, you CANNOT serve God and mammon (riches)- Matthew 6:24. You can't!
Parsley used Isaiah 45:1 to declare his views about the "anointing", which he abuses to the maximum. He used that text to point out that each of us can be anointed but this text was referring to King Cyrus and not him. Cyrus was to be used by God as His shepherd (Isaiah 44:28). But, this pastor uses so many half-truths that you just have to be on your guard because he usually desires you to ingest the poisonous side of that half-truth. Parsley type pastors will do almost anything for personal advantage to make a dishonest gain. Paul said that he preached the gospel
WITHOUT CHARGE
so that he would not abuse his authority in the gospel. A great many Pentecostal pastors DO abuse their authority in the gospel and often. Recall that Oral Roberts once refused to come down from his prayer tower until God had given him a vast amount of money. But, Oral, you have confused God with Monty Hall of Let's Make a Deal? And, if the Price Isn't Right, then it's sure not God asking you to "Come on Down"!
Often times pastors invoke the name of God to justify their perverted theology. "WOE TO THE FOOLISH PROPHETS, WHO FOLLOW THEIR OWN SPIRIT, AND HAVE SEEN NOTHING"- EZEKIEL 13:3. Have you ever watched Hogan's Heroes on television and seen Sgt. Schultz with his immortal line- "I've seen nothing, NOTHING!" And, all that NOTHING is what their congregations buy hook, line, and sinker! Where is the discernment in the church of today?
If you are one that is found to be peddling the word of God (2 Corinthians 2:17), why not peddle a bike instead? The exercise will do you some good and you can get some fresh air into that stale doctrine you are so fond of peddling. But, to continue that double honor lifestyle, you won't, because you'd rather spoon feed your flock poison. "AN ASTONISHING AND HORRIBLE THING HAS BEEN COMMITTED IN THE LAND. THE PROPHETS PROPHESY FALSELY, THE PRIESTS RULE BY THEIR OWN POWER, AND MY PEOPLE LOVE TO HAVE IT SO. BUT WHAT WILL YOU DO IN THE END?"-
JEREMIAH 5:30-31. When Jimmy Swaggart once fell, one of his flock said, "We've lost our leader?" You see, when you're regularly found to be ingesting poison, your pastors are made much larger than life itself. Jesus Christ is your leader and my leader. But, instead of following THAT leader, they build up their larder with your hard earned money. And, how much poison does it take in your stew to make you sick? Apparently not enough?
Your Servant in Christ,
David Norris
Spiritual Pathways Ministries