This is a report about three of the False Preachers who are heading up some of America's largest churches.
Clint Brown: Pastor, FaithWorld.
"It is Sunday morning at FaithWorld megachurch west of Maitland, Fla., and four video cameras are trained on Clint Brown. The nationally known recording artist soon trades the piano for a lectern. From there, the pastor urges members to give "sacrificially" so that their "blessings increase," bringing them more money, job promotions, and new houses and cars. For anyone who needs reminding, videotapes of the service are $15 in the church lobby...
Brown, his wife and two children occupy two parsonages in gated Central Florida communities, one purchased for $1 million in 2000 and the other for $500,000 in December. FaithWorld is paying for both.
Of the Browns' seven cars, the church makes payments on two a Mercedes sedan and a Mercedes sport utility vehicle_according to legal documents. The other vehicles include a third Mercedes, a Porsche and a Hummer.
In 2002, a lucrative year for Clint Brown's music career, he and his family charged $242,256 on two American Express cards alone. The following year, they rang up $215,701 on the same cards. Some of the credit-card charges were paid for by the church, which is reviewing the bills...
And Brown's 38-year-old wife, Angela, filed for divorce last year in Seminole County.
Using details from the divorce file, news accounts provided a rare glimpse into the lavish lifestyle of the minister who runs the 25-acre FaithWorld complex, all the while nurturing a music career on the side.
Clint Brown has delivered his most public comments about these disclosures during sermons at his church west of Maitland. Though he said he has not read or watched any of the recent accounts about him, he told his congregation two Sundays ago that the devil was behind all the recent controversy.
"If they crucified Jesus," he said, "they're going to talk about me."...
Linda Devine, 51, left FaithWorld in 2001 because Brown "didn't preach salvation. He didn't preach the Gospel....He preached money." If you didn't tithe, Devine said, the entire congregation would suffer.
"It's a total guilt trip," the Altamonte Springs, Fla., telemarketer said...
From 2001 to 2004, Clint Brown set up credit accounts at Mayors Jewelers to buy four Rolex watches ranging from $23,000 to $40,900, according to loan documents filed with the state. In June 2001, the divorce file shows, Angela Brown rang up credit-card charges of $9,175 at the Escada boutique in Bal Harbour, Fla. - and spent an additional $12,000 there the next month. In June 2003, Clint Brown charged $12,057 at St. John Boutique in Bal Harbour. On two Las Vegas trips, Clint Brown spent nearly $25,000 at shops such as the Fendi boutique, Versace Jeans Couture and Hyde Park jewelers.
In the divorce filing, Angela Brown says her husband purchased $70,000 worth of women's clothing on one of the couple's credit cards, but none of it went to her or her teenage daughter. She says in the divorce filing that FaithWorld paid for all those clothing purchases...
So when prominent female ministers come through Orlando, Pugh said, it would be common for ministers such as Brown to lavish them with a $2,000 or $3,000 suit."
("Singer-pastor took long road to prosperity," The Orlando Sentinel, February 23, 2005)
"ORANGE COUNTY, Fla. -- Channel 9 has uncovered the financial records of a nasty divorce involving the head of one of Central Florida's largest churches. The records detail how Pastor Clint Brown, and his wife Angie, spent hundreds of thousands of dollars from FaithWorld's large congregation.
In one case, Brown spent $70,000 in church money on women's clothing that his wife and daughter never received.
The divorce fillings indicate this couple, admired for their family values, had a relationship that was irretrievably broken. Records show they lived a lavish lifestyle, largely financed by the members of their church...
The financial documents in Pastor Brown's divorce file show many of those contributions aren't spread much further than he and his estranged wife, Angie.
Their home in Alaqua cost $1.4 million. The $7,000 a month mortgage is paid for by FaithWorld. So is the electricity, lawn care and pool maintenance.
Angie Brown drives a $95,000 Mercedes. Parishioners pay for that, too, along with the $531 in monthly insurance.
Even after all those perks, FaithWorld still pays Pastor Brown a generous salary. He made more than a half million dollars last year. His attorney says much of that came from the church.
Maybe most interesting in the divorce file is the couple's American Express bills. There are plenty of lavish shopping trips, spending thousands at Burberry's, Neiman Marcus and Gucci.
According to the divorce records, "In excess of $70,000 was charged by the husband to different woman's clothing stores and paid for by FaithWorld during a twelve month period."
("Divorce Records: Pastor's Lavish Lifestyle Funded By Church," WFTV January 12, 2005)
Evangelist Clint Brown hit by suit
$100,000 not repaid, Denver church says in Orange filing
By Linda Shrieves
Sentinel Staff Writer
April 12, 2005
"A Denver church has sued Orlando evangelist Clint Brown, saying he has refused to repay a $100,000 loan he sought to help buy a building for his Pentecostal congregation.
The suit by Heritage Christian Center is the latest in a series of legal troubles for Brown, who leads the 6,000-member FaithWorld church west of Maitland. Heritage is suing FaithWorld as well as Brown.The 41-year-old preacher and recording artist also is embroiled in a bitter divorce case and already has been sued by a former church member who says he reneged on a verbal loan agreement with her.
Heritage and its pastor, Dennis Leonard, say in their suit that Brown appealed to the Denver church for help several years ago when FaithWorld needed money for a new building. Leonard wired the money to Brown, and the pair verbally agreed that FaithWorld would repay the loan, said Leonard's attorney, Howard Marks of Winter Park.
The suit, filed in Orange County Circuit Court last month, says Leonard has seen none of the money, despite demands for repayment. It seeks compensatory damage and interest.
Marks said Leonard knew Brown because the Orlando pastor had performed at the 10,000-member Denver church. Leonard does not want to talk about the case, the attorney said.
FaithWorld attorney Mark Matthew O'Mara would not comment on the suit, saying he had not seen it yet. Susan Williams, Brown's attorney, did not return phone calls Monday requesting comment.
The suit charges that Brown and the church never put the loan on FaithWorld's books because they were trying to hide it from lenders during negotiations to buy the 25-acre church complex once owned by televangelist Benny Hinn. Brown and FaithWorld bought the complex, on Forest City Road, and a handful of residential properties nearby for $9.3 million in 2000, according to Orange County land records.
This lawsuit echoes another, filed by former church member Deborah Mitchell. In her suit, Mitchell charges that Brown asked her for a $200,000 loan in 1999 so FaithWorld could buy or construct a new building.
Mitchell says Brown verbally agreed to repay the loan, but Brown, through his attorneys, maintained that the money was a gift to the church, not a loan.
Mitchell's lawsuit is scheduled to go to trial in June.
Besides the two lawsuits, Brown is in the middle of a divorce from his wife, Angela. Her divorce filing revealed the Browns' lavish lifestyle that included seven cars and credit card charges totaling more than $450,000 in two years.
O'Mara has said that some of those charges were paid for by the church and that the records are being reviewed."
Evangelist Settles 2 Suits Over Money Lent to Him

After three years of legal wrangling, high-profile evangelist Clint Brown and his 6,000-member church, FaithWorld, have settled a lawsuit filed by a former church member who said the evangelist asked her for a $200,000 loan and then refused to pay the money back.
…….The past year has been one of legal turmoil for Brown, 42, an evangelist and Christian recording artist who took over the helm of Benny Hinn's Orlando megachurch in late 1999. Brown's wife, Angela, filed for divorce in March 2004, and the divorce filing revealed the couple's lavish lifestyle, which included seven cars, a $1.4 million home in Alaqua Lakes and credit-card charges that totaled more than $450,000 in two years.

This report comes from www.myfortress.org
Please visit their site for more interesting articles
********************************************************

Here is the latest on Morris Cerullo followed by our report first published last August Evangelist Indicted on Tax Evasion Charges!

SAN DIEGO – A federal grand jury on Tuesday indicted the head of a worldwide evangelical movement on charges of income tax evasion.
Morris Cerullo, president of Morris Cerullo World Evangelism, misstated his income by $550,000 between 1998 and 2000, according to the indictment. Cerullo was charged with three counts of filing false tax returns, each of which carries a maximum penalty of three years in prison and a $100,000 penalty.

Morris Cerullo is the founder of Morris Cerullo World Evangelism. Claiming to be an apostle and prophet to the nations, Cerullo has been preying on gullible Christians for over 50 years.
Cerullo's website is a cornucopia of wild claims and self aggrandizement. Humble he is not.
From his website;
Many honors have been bestowed upon Morris Cerullo – including honorary doctorates of divinity and humanities – by academic leaders, spiritual leaders and presidents of nations, in recognition of his achievements and contributions to global evangelization.
Few ministers have had such an impact on the destiny of the nations of the world.
Not only does God speak to him but his prophetic annunciations come with a special anointing of God's Presence.
He received a divine, supernatural call from God to preach at the age of fifteen when God took him into the heavens and revealed Himself to him by a supernatural vision.
WOW!
Honored by church and world leaders, impacts the destiny of nations, prophetic annunciations with a special anointing of Gods presence (whatever that means) and not just called by God to preach but actually called and taken to heaven to meet with Jesus face to face!
Luke 6:26
Woe unto you, when all men shall speak well of you! for so did their fathers to the false prophets.
What a guy! I mean most of us have to be satisfied with the regular old "call of God" on our lives. This guy got the call and had face to face meeting with the Head Honcho Himself. He must really be special! At least that's what he wants you to think.
And how about that impacts "destiny of nations" claim. Again from his website;
Beginning in 1999, Morris pioneered new spiritual territory in many nations considered closed to the Gospel, making spiritual history in the Middle East! More than 22,000 Nationals from eleven Middle East countries received spiritual breakthroughs that enabled them to reach their countries in a demonstration of God's power. The eleven countries were; Saudi Arabia, Oman, United Arab Emirates, Kuwait, Cyprus, Jordan, Turkey, Israel, Lebanon, Qatar and BahrainWell, I'm sure glad he had such an impact on those Middle East countries otherwise those Muslims over there might really be mad at us.
And how about all those new Christian churches opening up in Saudi Arabia, Jordan, and Lebanon! Oops, sorry, those Muslim nations still don't allow any display of Christianity.
Tell me again what his guy has actually accomplished.
In recent years Cerullo has faced lawsuits by former employees, investigations by the U.S. Postal Service and U.S. Customs, been banned from television in Great Britain, and has built a net worth estimated to be 100 million dollars.
Like most of these frauds and con men, Cerullo has done quite well for himself fleecing God's people out of their money. He reportedly lives in a 12,000 square foot mansion in the exclusive Rancho Sante Fe community of San Diego and owns a Gulfstream G4 private jet with two full time pilots as well as several luxury automobiles.
Yes sir, that's the crucified life alright!
Math 6:24 -26
Then said Jesus unto his disciples, If any man will come after me, let him deny himself, and take up his cross, and follow me. For whosoever will save his life shall lose it: and whosoever will lose his life for my sake shall find it. For what is a man profited, if he shall gain the whole world, and lose his own soul? or what shall a man give in exchange for his soul?

What brought this guy to my attention was the ads he's running for his latest con:

THE FIRST EVER MORRIS CERULLO SCHOOL OF MINISTRY ON PRAYER AND INTERCESSION " Coming to Dallas Texas August 31 – Sept 6, 2004
This first ever seminar is being held at the exclusive Gaylord Texan resort in suburban Grapevine Texas and will include a lineup of 26 special guest speakers as well as 8 special guest musicians!
The guest speakers are a veritable Who's Who of the apostate church. For only $125 (including breakfast) you'll get to hear;
False prophets like
Rick Joyner, Dutch Sheets, John Kilpatrick, and Cindy Jacobs

False teachers like
Tommy Tenny, Steve Hill, Billy Joe Daugherty, and Ted Haggard
Word Of Faith con men like
Kenneth Copeland, John Avanzini, and Mike Murdock
Plus a whole bunch more that you've probably never heard of.
Now I'm not sure when these special guests are going to be able to speak because according to Cerullo;
THIS IS A NEW GOD-ANNOINTED SERIES! I WILL NEED TO SPEAK IN BOTH THE MORNING AND EVENING SERVICES TO RELEASE IT TO YOU!...
You see, Morris Cerullo is the only person in the world that God can entrust this information to, and if we don't get to this seminar we won't have any way to know how to pray.
Do you see what this is?
1John 2:18
Little children, it is the last time: and as ye have heard that antichrist shall come, even now are there many antichrists; whereby we know that it is the last time.
When you think of the anti-christ I'm sure that like most people you think of the evil end time ruler that is to come, but John says there are many anti-christs. How can that be?
Anti-Christ doesn't mean opposite of Christ, it means in place of Christ.
Any person who puts himself in place of Christ in your life is operating in the spirit of anti-christ. And as John said there are many of them already in the world!
Morris Cerullo claims to have special knowledge from God. He claims to have had special visitations from God. He claims to have had special visions from God. Morris Cerullo wants you to think that he is on a higher level of spirituality than you. This is the very essence of the anti Christ spirit.
1John 2:27
But the anointing which ye have received of him abideth in you, and ye need not that any man teach you: but as the same anointing teacheth you of all things, and is truth, and is no lie, and even as it hath taught you, ye shall abide in him.
If you are born of the Spirit of God, John says you have no need that any man should teach you. You already have all the anointing you're ever gong to need.
You are perfectly capable of hearing from and obeying God yourself! You don't need Morris Cerullo or any of these other jokers!
Would you like a seminar on prayer? Well, here it is.
Luke 11:1-4
And it came to pass, that, as he was praying in a certain place, when he ceased, one of his disciples said unto him, Lord, teach us to pray, as John also taught his disciples.
And he said unto them, When ye pray, say, Our Father which art in heaven, Hallowed be thy name. Thy kingdom come. Thy will be done, as in heaven, so in earth.
Give us day by day our daily bread.
And forgive us our sins; for we also forgive every one that is indebted to us. And lead us not into temptation; but deliver us from evil.
There you go. The disciples asked Jesus how to pray and he told them. And he didn't charge them $125 and it didn't take a 6 day seminar.
I promise you there is more truth in those 4 verses than will be "released" in all six days of Morris Cerullos "God anointed series"
I appeal to you by the spirit of the living God to turn from these anti-christ false teachers. Reject them and open the bible for yourself. You can hear from God. You can be led by God. Let the Holy Spirit be your teacher.

Psalm 1:1-3
Blessed is the man that walketh not in the counsel of the ungodly, nor standeth in the way of sinners, nor sitteth in the seat of the scornful. But his delight is in the law of the Lord; and in his law doth he meditate day and night. And he shall be like a tree planted by the rivers of water, that bringeth forth his fruit in his season; his leaf also shall not wither; and whatsoever he doeth shall prosper.
All quotes taken from Morris Cerullo website. A hard copy is on file with Apostasywatch.com
Steve Lumbley 2004 www.apostasywatch.com

********************************************************

Osteen Issues Apology/Explanation for King Interview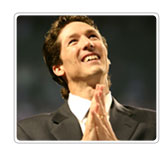 Joel Osteen has issued a quasi apology for his disgraceful performance during a recent interview with Larry King on CNN. Supporters and critics alike had taken him to task for his failure to plainly present the gospel when he was asked by King to disavow those who claim Jesus is the only way.

I'm sure Osteen and his supporters now consider the matter closed. He appears to have received correction and claims he will try to do better next time. But I have my doubts.
It's plain from his words that Joel Osteen still doesn't get it. Salvation is not about a "relationship with Jesus". It's about repenting of sin and entering into the death, burial, and resurrection of the lord Jesus Christ. Jesus didn't die on the cross so we could have a better life in this world. He died and was resurrected so that we could escape the damnation of hell.
Most of the apostate church has been condition to accept a false gospel for so long that they fail to grasp the distinction. False teachers like Osteen believe that the work of the cross was so that believers could live well in this life. But Jesus said his kingdom was not of this world (John 18:36). James said that if you are a friend of this world you are an enemy to God (James 4:4). John said that if we love the things of this world (houses, cars, careers, money, prestige, etc.) that the love of God is not in us (1John 2:15).
Joel Osteen says "…….that having a personal relationship with Jesus is the only way to heaven. It's about the individual's choice to follow Him."
No where does the bible say we must have a personal relationship with Jesus. Many today are told that they can "accept Jesus into their heart". The real question is not do you accept Jesus. The real question is does Jesus accept you?
I tell you, Nay: but, except ye repent, ye shall all likewise perish. Luke 13:3

Osteen denies Christ on national TV.
Last night, (6-20-05) Joel and Victoria Osteen were interviewed on CNN by Larry King. Osteen showed clearly why he has the largest church in America. He told everyone, including King, what they wanted to hear. He refused to say that Jesus was the only way to heaven.
KING: Because we've had ministers on who said, your record don't count. You either believe in Christ or you don't. If you believe in Christ, you are, you are going to heaven. And if you don't no matter what you've done in your life, you ain't.
OSTEEN: Yeah, I don't know. There's probably a balance between. I believe you have to know Christ. But I think that if you know Christ, if you're a believer in God, you're going to have some good works. I think it's a cop-out to say I'm a Christian but I don't ever do anything ...
KING: What if you're Jewish or Muslim, you don't accept Christ at all?
OSTEEN: You know, I'm very careful about saying who would and wouldn't go to heaven. I don't know ...
KING: If you believe you have to believe in Christ? They're wrong, aren't they?
OSTEEN: Well, I don't know if I believe they're wrong. I believe here's what the Bible teaches and from the Christian faith this is what I believe. But I just think that only God with (sic) judge a person's heart. I spent a lot of time in India with my father. I don't know all about their religion. But I know they love God. And I don't know. I've seen their sincerity. So I don't know. I know for me, and what the Bible teaches, I want to have a relationship with Jesus..........CALLER: Hello, Larry. You're the best, and thank you, Joe -- Joel -- for your positive messages and your book. I'm wondering, though, why you side-stepped Larry's earlier question about how we get to heaven? The bible clearly tells us that Jesus is the way, the truth and the light and the only way to the father is through him. That's not really a message of condemnation but of truth.
OSTEEN: Yes, I would agree with her. I believe that...
KING: So then a Jew is not going to heaven?
OSTEEN: No. Here's my thing, Larry, is I can't judge somebody's heart. You know? Only god can look at somebody's heart, and so -- I don't know. To me, it's not my business to say, you know, this one is or this one isn't. I just say, here's what the bible teaches and I'm going to put my faith in Christ. And I just I think it's wrong when you go around saying, you're saying you're not going, you're not going, you're not going, because it's not exactly my way. I'm just...
KING: But you believe your way.
OSTEEN: I believe my way. I believe my way with all my heart.
KING: But for someone who doesn't share it is wrong, isn't he?
OSTEEN: Well, yes. Well, I don't know if I look at it like that. I would present my way, but I'm just going to let god be the judge of that. I don't know. I don't know.
KING: So you make no judgment on anyone?
OSTEEN: No. But I...
KING: What about atheists?
OSTEEN: You know what, I'm going to let someone -- I'm going to let god be the judge of who goes to heaven and hell. I just -- again, I present the truth, and I say it every week. You know, I believe it's a relationship with Jesus. But you know what? I'm not going to go around telling everybody else if they don't want to believe that that's going to be their choice. God's got to look at your own heart. God's got to look at your heart, and only god knows that.
Joel Osteen was given the opportunity to declare the gospel to America and he failed miserably. He was afforded a national platform to preach the death, burial and resurrection of the Lord Jesus Christ and decided that it was better to compromise and engage in "happy talk" than to speak the truth.
He could have explained to King and his audience that all have sinned and come short of the glory of God. He could have told Larry that all our works are as filthy rags to God. He could have said that according to God's word, mans heart is desperately wicked and deceitful. He could have explained that because of mans sinful condition justice requires that God punish sin and that the punishment for sin is death. Then he could have shown that God in His infinite mercy sent Jesus to live a sinless life and take the punishment that we rightly deserved. Finally he could have stated that by trusting in Jesus sacrifice on the cross we can be justified and accepted by God and cleansed from our sins.
But he didn't.
He didn't want to upset Larry King. After all, he was a guest on Kings program. It's not nice to be rude to your host is it? If he'd have told King that he was a sinner bound for hell, he might not have been invited back. And certainly God wouldn't want him to blow the opportunity to "minister" to the millions of people that watch King not to mention all the books you can sell by going on a show like this. Yes, on the whole I'm sure Osteen was right. Better to soften the pitch so as not to alienate all those hurting people out there.
As I stated previously it's clear why Joel Osteen has the largest church in America. He simply tells the people what they want to hear. He makes them comfortable in their lost condition. He allows them to justify their own sin. He paves the road to hell with happy talk, a positive attitude and a bright cheery outlook on life. Why is anyone surprised that sinners would flock to a message like that?
Thankfully there were several callers who tried to correct Osteen and allow him to declare the full council of God. The fact that he wouldn't do it show the true fruit of this mans heart. He is a wolf in sheeps clothing, a minister of Satan disguised as a minister of light.
We pray that God would grant repentance to Joel Osteen before it is too late. We pray that those deceived by Him be delivered from their deception so that they can receive the truth and be saved.
Math 7:13-15
Enter ye in at the strait gate: for wide is the gate, and broad is the way, that leadeth to destruction, and many there be which go in thereat: Because strait is the gate, and narrow is the way, which leadeth unto life, and few there be that find it. Beware of false prophets, which come to you in sheep's clothing, but inwardly they are ravening wolves.
You may read the entire transcript of this interview here>
CNN LARRY KING LIVE
Steve Lumbley 2005
www.apostasywatch.com

********************************************************
The following is our previous report about Joel Osteen and Lakewood Church.
Joel Osteen
It's hard not to like Joel Osteen. His easy going style, smooth words and positive message are just what people are looking for today. It's easy to understand why Osteen's Lakewood church is one of the fastest growing church's in America. Osteen is the complete antithesis of the typical TV preacher. He eschews the flamboyant for the understated. Fiery rhetoric is replaced with a kind of quiet professionalism. Broad displays of showmanship are exchanged for a sort of down home "aw shucks" type of demeanor. And in an effort to keep the people coming, the gospel of sin, righteousness, and judgment is supplanted by a Christ-less gospel that is no gospel at all.
Lakewood church in Houston Texas was founded in 1959 by Southern Baptist turned Word of Faith Charismatic pastor John Osteen. When the elder Osteen died unexpectedly in 1999, youngest son Joel stepped up from his behind the scenes role as his father's television producer and marketing expert into the pulpit. Since that time, Lakewood has outgrown the 7,800 seat auditorium it had occupied since the late 70's and moved into the 18,000 seat Compaq center in downtown Houston. A $70 million renovation is underway to transform the former N.B.A. arena into the new Lakewood International Center. Although the church keeps no formal membership counts it is estimated that more than 30,000 people attend at least one of Lakewood's five weekly services.
Discover the Champion In You – The Marketing of Religion.
Lakewood is the epitome of the modern non denominational mega church. They have something for everyone. Ministry classes for adults, singles, teens and children. Seminars on parenting, marriage and pre-marriage. Singles events and mixers. Single parent classes, Spanish language ministries. Grief counseling, addiction recovery groups, sexual fidelity support groups and women's bible studies. And of course the television ministry.
As with most of today's apostate churches, catchy slogans and worldly wisdom have replaced the hard work of making Christians. In many ways Joel Osteen is simply continuing his father's legacy. According to the younger Osteen, his father never wanted to preach a gospel of condemnation. True to that heritage, Joel Osteen claims "We've heard a lot about the judgment of God and what we can't do and what's going to keep us out of heaven. But it's time people start hearing about the goodness of God, about a God that loves them….. It's the goodness of God that leads people to repentance,."
Like most apostate preachers Osteen quotes only a portion of scripture leaving off the part that doesn't fit his positive, feel-good message. Paul did say it's the goodness of God that leads to repentance but he also added this:
Rom 2:5-6
But after thy hardness and impenitent heart treasurest up unto thyself wrath against the day of wrath and revelation of the righteous judgment of God; Who will render to every man according to his deeds.
In April 2002, the Houston Press did a feature story on Lakewood and Joel Osteen. The full story is linked on the Lakewood website so they obviously think of it as a positive story. I believe it is closer to a scathing indictment of the powerless gospel so popular with this generation. Here are some examples from the article
Speaking of Joel Osteen -
" And his sermons, with such titles as "Winning the Battle of the Mind" and "Enlarge Your Vision," are nothing but positive, easy-to-swallow messages about getting up when the world keeps beating you down…… It's like a strange combination of Tony Robbins meets Jesus."
But Paul said
1Cor 2:4-5
And my speech and my preaching was not with enticing words of man's wisdom, but in demonstration of the Spirit and of power: That your faith should not stand in the wisdom of men, but in the power of God.
On the Lakewood Bookstore -
'Tucked in one wing of Lakewood is the church bookstore. Between Sunday services it's packed with a line 20 deep at the cash register. … It is a veritable Christian candy store, complete with clothing, cards, CDs and a large children's section. Those eager to spend their money can buy ballpoint pens called Pens of Praise. Or a T-shirt for their father emblazoned with the slogan "Dad of Dads -- Because King of Kings was already taken!" There are wooden towel racks for the bathroom inscribed with the phrase "Create in me a clean heart, O God," and stuffed dogs named Happy Hank and Happy Hannah who, if their bellies are squeezed, say things like, "God loves me because I am me!" Joel Osteen's taped sermons also can be purchased ("Now available on compact disc!").'
But Jesus drove out those who bought and sold in the temple saying:
John 2:16
….Take these things hence; make not my Father's house an house of merchandise.

On Lakewood's diverse offerings –
'"There's been a progression in our culture," says Emerson. "Everything's become part of the marketplace. I'm a consumer, and I choose. And religion's become that way. These megachurches provide all kinds of services, programs for the kids. They have everything." '
But Jesus said:
Rev 3:17
Because thou sayest, I am rich, and increased with goods, and have need of nothing; and knowest not that thou art wretched, and miserable, and poor, and blind, and naked:
When Lakewood entered into negotiations with the city of Houston to lease the Compaq center they hired a lobbyist -
' And when it came time to hire a lobbyist, Lakewood settled for no less than one of the best: Dave Walden, right-hand man for former mayor Bob Lanier.
The straight-shooting Walden, who smokes Marlboros and swears freely, might have seemed like an odd choice at first for a bunch of Christians. After all, when asked if he goes to church, Walden answers bluntly, "I don't like the circus."
But Walden likes working out deals, and so when Lakewood's attorneys suggested him as a lobbyist to negotiate a Compaq Center deal, the church went for it, says Joel Osteen.'
But the Bible says:
2Cor 6:14-15
Be ye not unequally yoked together with unbelievers: for what fellowship hath righteousness with unrighteousness? and what communion hath light with darkness? And what concord hath Christ with Belial? or what part hath he that believeth with an infidel?

On the reason for Lakewood's explosive growth -
'Why do they come? Paul (Osteen) says he is asked this all the time, and although his younger brother is too modest to admit it, the reason is Joel Osteen himself. Joel Osteen is the reason why the church has gotten so popular. Joel Osteen is the reason why Lakewood has one of the top-rated shows on the Trinity Broadcast Network. Joel Osteen is the reason why they've gotten so big they've added services and need to make the Compaq Center move. Their father, John, birthed this church, but it's his little brother who can't stop bringing them in.
But the prophet Jeremiah said
Jer 17:5
Thus saith the LORD; Cursed be the man that trusteth in man, and maketh flesh his arm, and whose heart departeth from the LORD.
Joel Osteen likes to end each service by extending an invitation for the audience to receive Jesus as Lord and savior. My question for him is saved from what? Why do I need a savior? You just spent 40 minutes telling me that God loves me and has a wonderful plan for my life.
You never told me that I've sinned against a holy God. You never explained that I have fallen short of God's righteousness. You never told me that the penalty for my sin is everlasting torment. You never said that I cannot get right with God by my own efforts. You didn't tell me that Jesus paid the penalty for my sin on the cross. You didn't explain that Jesus died, was buried and rose again for me. You didn't tell me that my only hope in life is to trust in, rely on, and commit to his death, burial, and resurrection.
You only told me a part of the story. You only told me what I wanted to hear. You made me feel good about myself and secure in my sin. When I stand before the judgment seat of God will you be there to help me? Will you be there to explain that you only wanted to build me up?
I'm sure Joel Osteen is a likable guy. I do not doubt his sincerity. But sincerity and affability is no substitute for the truth. It's not what Osteen says that's a problem. It's what he doesn't say. And that's going to be a very big problem for his congregation and for him if he doesn't repent.
Gal 1:6-8
I marvel that ye are so soon removed from him that called you into the grace of Christ unto another gospel: Which is not another; but there be some that trouble you, and would pervert the gospel of Christ. But though we, or an angel from heaven, preach any other gospel unto you than that which we have preached unto you, let him be accursed.