As reported by KATU TV, Portland, Oregan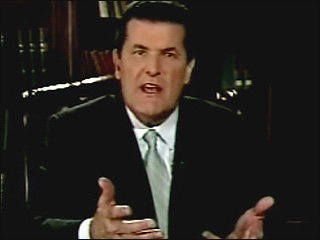 A TV preacher revealed as a fraud two decades ago has "resurrected" himself, much to the disgust of a Washington man. Matt Clement was deluged with mass mailings, religious trinkets and pleas for money from televangelist Peter Popoff.

Clement had lots of questions and asked the KOMO 4 Problem Solvers to investigate. We found that Popoff's infomercial industry is making millions.

"Hallelujah!" rings out the voice of Popoff during any number of his infomercials. They air on dozens of cable networks around the country, most days of the week and most any time of day.

On his Web site, Popoff tells the audience, "I'm going to tell you about the miracle spring water," while holding a very small plastic tube that contains a small amount of clear liquid.

Most infomercials promise amazing results, but Popoff promises outright miracles. Popoff says the little packet of water he advertises says can cure anything from cancer to bankruptcy. And he promises the audience, "You're going to see restoration - you're going to see miracles in your life."

And the price? "It's free, it's absolutely free," adds Popoff. Free, but that promise of Godly miracles comes with a very earthly request.

Holding up two handfuls of letters, Clement says, "this is all different kinds of paperwork that Peter Popoff, prophet Peter Popoff has sent me." Clement said the stack of letters is just a couple weeks' worth of mailings. He's already thrown out at least this much.

It all started when Clement's roommates signed him up for Popoff's miracle spring water as a joke. Clement was deluged - not with miracles - but with letters full of religious trinkets.

"Here is some miracle spring water," he said while pawing through the letters. Then there's, "a napkin with a picture of Jesus on it," and also a tiny plastic baggy with some kind of white, crumbly material, "miracle manna cake is what it is."

There's also tinsel, paper leaves, more miracle spring water, a purple prayer napkin -- too many items to count.

And with every single letter comes a plea for money. Clement reads from just one letter: "Brother Clement in Jesus' name, thank him with your offering, I feel led to ask you Matt to prove God with a $19 offering." And the letter goes on, saying that if you're a strong believer, you should send in double that amount.

"I look at people like that, and I think they're just nut jobs is what I actually think," said Pastor Joe Fuiten of Cedar Park Church. He leads a large, active congregation and says the key to keeping a charismatic preacher in line is oversight.

Fuiten couldn't find any record that Popoff is even ordained, much less has an organized church. So he asks, where's the accountability?

"God is a good God and a faithful God so there are people genuinely seeking miracles, and he takes advantage of that," Fuiten said.

KOMO 4 Problem Solvers tried several times to reach Popoff and ask him about oversight and his television ministry, but he hasn't returned any of our calls.

The only insight into Popoff's organization comes from IRS documents. In 2003, people donated $9.6 million to Popoff's organization.

Nearly a million of that, $909,133 went to salaries paid to him, his wife and children. By 2005, donations soared to more than $23 million. And so did the salaries of Popoff and his family, jumping to $3,137,929.

When we told Clement the numbers he was stunned. "Twenty-three million dollars? That's ridiculous," he said.

Pastor Fuiten has a different answer: "I think it sours people toward religion."

Even more surprising, Popoff has a history of televangelist fraud. In the 1980s, he held faith-healing crusades around the country. A video widely available online shows one of those crusades, where he ministers to people with such serious ailments as cancer.

On the video, Popoff can be heard saying, "And God told me he says you smite that cancer with your fist!"

Professional skeptic and debunker of faith healers James Randi didn't believe Popoff's miraculous stage abilities, where Popoff appears to know the names, addresses and ailments of people in the audience without them apparently ever saying a word.

But Randi proved they were fake when he used a radio scanner at one of Popoff's religious crusades. In Randi's video, you hear a woman's voice say, "Hello Petey, can you hear me? If you can't you're in trouble."

Randi says it was the voice of Popoff's wife, Elizabeth, and that she was secretly talking to him through an earpiece, feeding him information taken from prayer cards the audience filled out in advance.

After Randi went public with the fraud, Popoff declared bankruptcy. But he's made a significant comeback, with paid infomercials playing on at least five different local cable networks.

Clement's reaction? "I'm pretty disgusted about it," he said.

Clement hasn't sent Popoff money, but he still feels taken. "And I'm pretty disgusted that he's still able to be out there, still taking advantage of people."

The IRS documents only outline the millions of dollars people give Popoff's organization here in the U.S. He also runs his TV ministry around the globe, in Asia, Africa, Europe and South America. We don't know how much money he's raising there or where that money is going. What are your thoughts on this article?