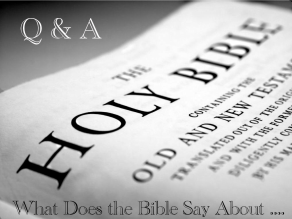 We receive lots of emails asking for answers to pertinent questions, therefore this page is designed to give you a precise answer to those questions. Please submit your questions about the Bible to us for inclusion to: fwm@adams.net
What Does the Bible Say About ...
Salvation
False Teachers
Should We Judge
Homosexuality
Gambling
Halloween
Sex Before Marriage
Drinking Alcohol
Suicide
Pornography
Tithing
False Signs & Wonders
Money & Finances
Life after Death
Baptism
Mark of the Beast
Church Attendance
Abortion
Being Born Again
Who Jesus Was & Is
Law & Grace
Vegetarianism
Baptism in the Holy Spirit
Demons, are they real?
Satan
God
John the Baptist
Hunting for Fun not food
Mark of the Beast
---
Salvation: There is only ONE way for Salvation to occur for any man or woman. Jesus said in John 14:6 this:
"Jesus saith unto him, I am the way, the truth, and the life: no man cometh unto the Father, but by me". To be accepted by Jesus for your Salvation you must realize that ALL mankind is born with evil in themselves by virtue of the Sin committed in the Garden of Eden by Adam and Eve. You must repent of your sins and believe on Jesus which means you must turn from your old ways and believe that Jesus is the Son of God and that He came to this world from the Father to take away the sins of the people. That He was born of a virgin, died on a Cross for you, was born again by being raised from the grave and that He ascended to Heaven where He sits at the right hand of the Father God and that He will come back one day to redeem His people (those who have believed on Him). Each person must turn to Jesus on their own as no one can do it for them and ask Him to forgive you of your sins and make a vow with Him to follow Him for the rest of your life. You cannot earn you way to Heaven as it is attainable only through Jesus the Christ as a free gift to those who believe and follow Him.
---------------------------------------------------------------------------------------------------------------------------------------------------------
---
If after reading this message you feel it has been a blessing to you, and you would like to see more articles like this posted on this website and Broadcast on the Radio, please Pray about what you can do to help make this possible. Your Prayers and Financial support are what keeps this Ministry going. We depend on people like you who believe as we do that our Churches have fallen away from the True Word of God and the time is getting nearer when the Lord shall return. Please help us to get the message out to the lost souls following under the guidance of False Teachings. To help us prayerfully or financially, please click here.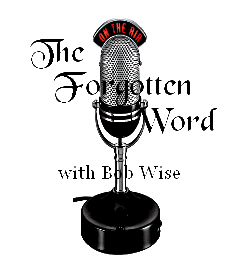 ---
Help Support Our Efforts to Educate those who follow False Teachings and False Prophets.
Send your Donation to:

Forgotten Word Ministries
403 E. Fremont
Camp Point, IL 62320