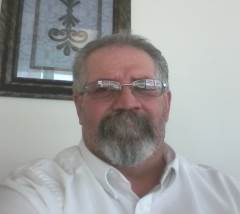 Robert Wise was born in 1952 in Farmersville, Illinois and raised under the teachings of the Methodist Church. While still a youngster they moved to another town in Illinois and the family quit attending church. Bob came from a large family, having 8 girls and 5 boys. Needless to say, there was never a dull moment. For many years Bob was away from the teachings of the church and led a varied lifestyle. After High School, Bob while already into drinking beer and hard liquor decided to go along with the crowd and got into the drug scene. Being raised through the sixties and it now being 1970, that seemed the thing to do if you wanted to be a part of the "in" crowd. Drinking and drugs actually directed most of Bob's late teen and early 20s life.
Moving from one place to another, never able to settle down, Bob found himself living in Memphis Tennessee. Having arrived there (hitch hiked all the way) and with only $4.16 in his pocket Bob eventually found himself working for a tavern and after a couple years decided to purchase one of his own. While in Memphis, Bob decided to stop using drugs of all kinds but still continued to drink alcohol. It took some time to defeat this enemy but through God it was finally defeated.
Bob eventually started back to church and got into the Word of God. He spent a lot of time studying, praying and finally one day, Bob realized what the problem with himself actually was. Bob was and had been ignoring God and Jesus. He had fallen away from them but knew in his heart that he must get right with the Lord and dedicate his life to Him. Bob did dedicate his life to Jesus. Not everything went right. But finally, this sinner had made a complete circle. Finding God and then leaving Him to at last come back to God and the Lord Jesus as he knew he must. A life which looked like it was destined to be nothing but a failure was at last on the track to victory. Victory through Jesus was the greatest thing Bob had ever found. Bob stayed the course, enrolling in Berean Bible School. God had certainly blessed him.
Under the calling from God and after many years of studying the different denominations and preachers who have gotten away from the true Word of God and have allowed man's selfish wants and wishes to dominate their organizations and local churches, Forgotten Word Ministries was founded. Bob had come full circle with his life. Today, Bob has preached in different churches in Illinois and has given talks at organizations and various group meetings. His main dedication today is to God, Jesus and the Holy Spirit. The ministry keeps him very busy and deeply rooted in the Word of God while researching the different ministries around the USA and abroad. Forgotten Word Ministries offers free literature, teaching tapes and a Bible to anyone who might request it. These materials are designed to help you to understand the Word of God, find a church home and help you along your Christian walk.
Please understand that Bob is not proud of his life before Jesus filled his heart. Nothing about his old life was glamorous or worthwhile. It was a life of constant pain, hurt, fear and sorrow. Please use this example so that you may live a better life than Bob's old life was. Bob had hurt many people during this old life but unfortunately cannot go back in time to change that. Bob does pray that all have forgiven him for his transgressions. All during Bob's younger days, he had hesitations about doing so many things, and a lot of times he felt like he was different from the people he was hanging around with. You see, God was always there, touching Bob's life in that still small way, making Bob uncomfortable until finally the realization hit home. God is there all the time. He will wait upon you, please don't keep Him waiting too long.
May God have all the Glory in and through Bob's life. What was once a life filled with sin and depredation is now a life filled with the love of the Lord and a heart filled with compassion for the lost and confused.
Bob lives in Golden, Illinois with his wife Julie and their son Joey.
I do pray this brief testimony has helped you to better understand who Bob Wise is. He is a living testimony of how a person living a life that was not worth living, can be changed into something worthwhile and be in the good graces of God's Love!
Blessing,
Robert Wise
Founder, Forgotten Word Ministries