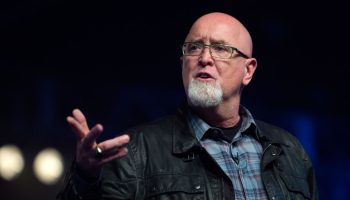 James MacDonald, the embattled pastor who for so long seemed to have been able to get away with just about anything and everything, is finally out as pastor of Harvest Bible Chapel. The decision follows a failed lawsuit against bloggers who did little more than tell the truth and report the news about his ministry.
In a statement made by Harvest Bible Chapel today, MacDonald will go on an "indefinite sabbatical" (read that: off duty with pay) from his position at the church.

After explaining that the church is going through an official "peacemaking" process, they announced…
While we had hoped that successful audits and re-examined/confirmed ECFA compliance would help heal some relational wounds, it simply hasn't happened. As part of the peacemaking process, Pastor James is taking an indefinite sabbatical from all preaching and leadership at our church in Chicago. He has recused himself fully from any direction of this peacemaking process, other than to participate when and how requested. He may continue preaching at Harvest Naples through some of the winter months and will be on sabbatical, pending the completion of the reconciliation process and a full report to the congregation. Please be in prayer for Pastor James and Kathy through this season.
MacDonald also released a public statement in which he admits to sin.
I have carried great shame about this pattern in certain relationships that can only be called sin. I am grieved that people I love have been hurt by me in ways they felt they could not express to me directly and have not been able to resolve. I blame only myself for this and want to devote my entire energy to understanding and addressing these recurring patterns.

I have long known and taught it is not about the messenger, it is about the message and I am grateful for a time of extended sabbatical, during which Harvest will be in capable hands. I may continue preaching at the Naples Campus through some of the winter season and have postponed all writing and leadership to begin in earnest now. I will continue this focus as long as it takes and participate wholeheartedly as requested in the process shared above.