Today I want to talk about a new DC comic that they are just coming out with about Jesus Christ. They're introducing this new comic as the newest Superhero. It's adapted from the most popular book in history with its own twist of the most popular book. Most popular meaning the Bible.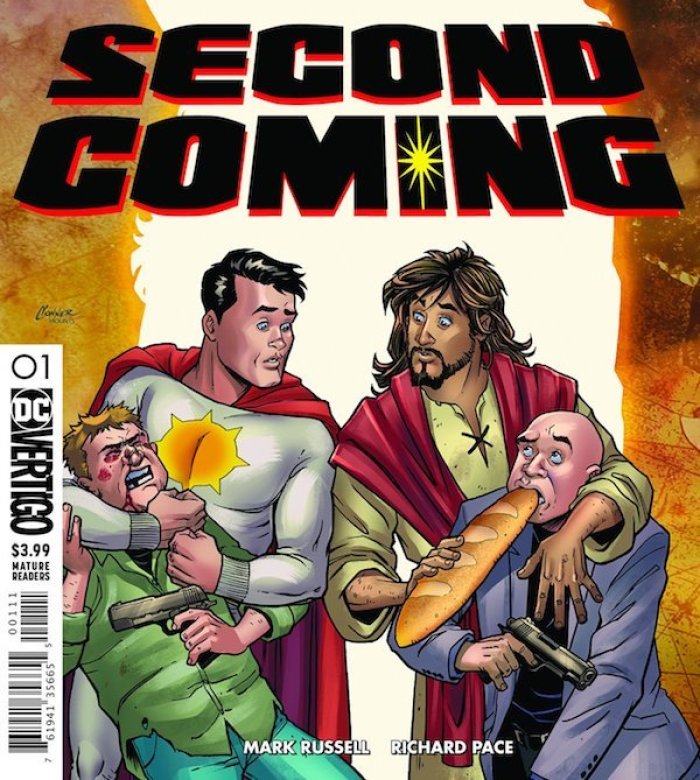 click to enlarge

Now the new series is going to be called "Second Coming". It's supposed to have come out in March I guess of 2018. It's written by somebody named Mark Russell and it's illustrated by a guy name Richard Pace and it's been labeled by some Christians as blasphemous.
Here is a excerpt from the article from the Christian Post:
"Witness the return of Jesus Christ, as He is sent on a most holy mission by God to learn what it takes to be the true messiah of mankind by becoming roommates with the world's favorite savior: the all-powerful superhero Sun-Man, the Last Son of Krispex! But when Christ returns to earth, he's shocked to discover what has become of his gospel — and now, he aims to set the record straight," the comic description reads.
In a past interview with Bleeding Cool, Russell explained that the series centers on the fact that God "was so upset with Jesus' performance the first time he came to earth since he was arrested so soon and crucified shortly after, that he has kept him locked up since then."
When the fictional version of God sees Sun-Man, he tells the comic Jesus, "That's what I wanted for you."
"He sends Jesus down to learn from this superhero and they end up learning from each other," Russell added. "They learn the limitations of each other's approach to the world and its problems."
Now according to Comic Book Resources what they've done is that Mr. Russell has mixed his own idea of Christianity into his animated work by claiming that Jesus needed to return to earth to learn how to become the true Messiah from a Superman like character called Sun Man.

The really sad thing about this is that Russell claims that this new series called Second Coming is going to help set the record straight. He claims that God was mad at Jesus for allowing himself to get arrested and killed so early in his life and was not able to complete his, I guess you would say his destiny.

This is typical Hollywood garbage! Why would anyone think that Jesus did not complete his mission. The Bible clearly explains without any doubt that Jesus did exactly what he was supposed to do. I'm not sure where Mr. Russell came up with the notion that Jesus's mission was not complete. The only thing I can come up with is that Satan has certainly infiltrated the mind of Mr. Mark Russell. I have no idea what Richard pace who was the illustrator had on his mind during this making of this comic book. I would assume and I know that's a dangerous thing to do, but I would assume that Richard Pace did it for the money even though I have no knowledge either way. The illustrations in the comic are actually very well done. They're very colorful and quite professional. I pray that Mr. Pace sees the light of the true gospel, not what this comic book portrays.

I would advise very strongly that Christians do not allow their young children to purchase this comic. Now I know children and even some adults like to read comic books. There is nothing unusual about that. The problem is that comic books are very appealing in regards to their neat looking characters, the bright attractive colors, and all of the action that seems to go with them just appeals to a lot of people. With all these attractive attributes, it is sometimes very appealing and entertaining. Now we know a lot of comic books are really directed towards imagination and entertainment. The problem with this new comic book about Jesus Christ is that it's truly is blasphemous and can very easily misdirect a young mind into believing what they're saying.

The Bible makes it very clear that God had a plan and that he set the plan in motion. The plan was completed at the cross and at the resurrection of Jesus. All was finished in regards to Jesus's mission. Everything that Jesus Christ set out to do he did. Nothing was left undone. Jesus made it very clear while on the cross when he said All Is Finished.

I believe it's our obligation as Christians to pray for Mark Russell and Richard Pace though we don't know their theology or their lives, we certainly can tell by this new comic book Superhero - Jesus Christ, that they are not looking at things from a biblical perspective.

Again, I urge all Christian parents to protect their children from this comic book that DC comic has brought out. I also urge all Christians to pray that this comic book series will be very short-lived.

You have any questions or comments please contact me via my email address: pastorwise@adams.net